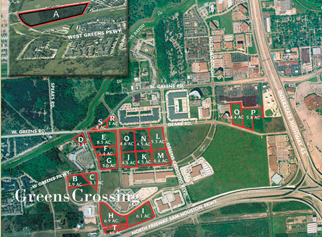 Located in the Greater Greenspoint area, Greens Crossing is the preeminent business address in the dynamic northwest market of Greater Houston. Easy access to all points in Houston has always been a key selling advantage. The business district is strategically located at the crossroads of Interstate 45 and the Sam Houston Parkway, an 83-mile loop encircling Houston which provides easy access to Houston's suburban communities, downtown and all other vital economic areas.
For more information, visit www.greenscrossing.com
Description: GreensCrossing is a professionally managed 484-acre mixed-use, deed restricted business park located in the Greater Greenspoint Management District with excellent visibility and access to Beltway 8 and Interstate Highway 45.
More than 80 energy-related companies have settled here, making the area second only to downtown Houston in corresponding firms. Some 1,100 companies and over 100 office buildings inhabit the Greater Greenspoint area. Rich in high-tech amenities, Greenspoint is emerging as a technology hub. The park's key features include:
* Multiple roadway and freeway access
* Multiple fiber carriers provide broadband connection service
* Heavy redundant electric feed
* High density sewer and water capacity
* Major entries off of both Beltway 8 and IH-45
As the most desirable business location in Houston, Greenspoint's continuing success is attributable to its strategic location. The area benefits from a pro-business environment, relatively low tax structure with incentives available, major retail amenities, and a highly educated labor base. These items, along with its central location, will continue to attract local, regional and national corporate users concerned with long-term investment value.
Size: 85 acres, parceled out into 20 sites ranging in size from .4 to 9.2 acres
Project Team and Timeline:
Owner – Simmons Vedder Partners
Land Purchased – December 2002
Site A – Sold April 2005
Sites J, K, L, M, N, O, R, S – Developed as distribution center by Simmons Vedder & Co.